Miller Garages — Michigan Garage Construction Specialists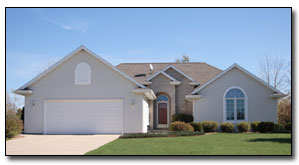 Custom Garages by
Dedicated Garage Builders
If you are looking for garage experts who bring years of experience, dependability, know-how, and dedication to customer service, Miller Garages is the garage builder for you.
At Miller Garages, we have served three generations of southeast Michigan homeowners, providing custom garages and garage accessories out of the same location for nearly 60 years. We are a family-owned business founded in 1948, with headquarters in northeast Detroit, Michigan. Garage builders extraordinaire, we build over 500 custom garages each year, on average, making us one of the leading garage builders in the metropolitan Detroit area. We serve communities in the tri-county area and beyond.
Garages have been our primary line of business throughout our company's history. We bring a solid reputation for quality work and customer satisfaction. We are proud of the work we do and we stand behind it. Our garages are built according to your city's codes. All permits are secured through Miller Garages, for your protection.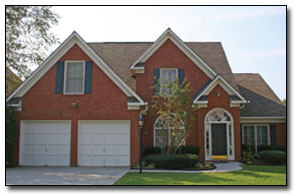 As a leading residential contractor in southeast Michigan, Miller Garages has the know-how to improve your existing garage design or build the brand new garage you want. Our builders are specialists in garage construction. With their years of experience, our builders know everything there is to know about building garages. With our dedication to customer service, we will develop garage plans that meet your needs and build a garage that leaves you pleased.
Garage Designs of All Kinds
When you have a garage built by Miller Garages, you start by selecting one of five different types of garages. Miller works from these existing garage designs and can customize these garage plans to suit your tastes.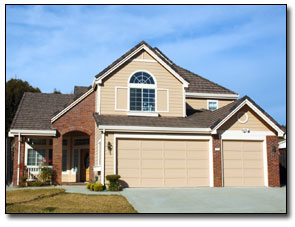 Garages in All Sizes
Using these five designs as a base, we can develop customized garage plans to please every customer! Whether you need a basic one-car garage, a garage for three or more cars with storage and accessories, or something in between, Miller Garages can customize your garage to meet your needs. For a custom garage job, you can select from a variety of sizes:
One car — the basic garage, with optional service door and windows and limited storage space.


Two cars — the overhead door located for easy access, with standard service door and optional windows and basic storage space.


Two and one-half cars — one of our most popular sizes, with standard service door and windows and ample storage space for bikes, lawn mowers, yard tools, and work benches.


Three or more cars — the best option for the owner who has multiple cars, boats, or other vehicles, additional storage needs, and room for a workshop.
Garages That Look as Good as Your House
Miller uses materials that make your garage match your house, in color and style. Siding options for your garage include:
architectural shingles
cedar siding
vinyl siding
vinyl fish scales
brick
3-tab shingles
The Miller Garages representative brings color samples to your location, so the best match with the surrounding buildings can be made.
Doors and Windows Installed for Dependable Operation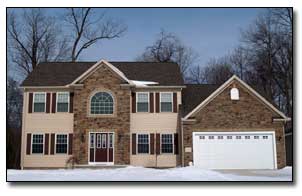 Miller Garages offers a wide selection of garage doors from high-quality, brand-name manufacturers. You choose from styles that include single doors, multiple doors, and carriage-style doors, many different panels, and glass designs. You can select from a variety of colors and materials and other options, including steel-entry door systems, magnetic weather stripping, reinforced locks, decorative door lights, and matching sidelights.
Miller Garages offers quality vinyl windows in a variety of styles, including single-hung, double-hung, fixed glass, sliders, casement, and awning windows.
Garage Options for Special Uses
Miller Garages offers specialized garage options to suit the most demanding car enthusiast.
Car lift — an excellent solution for easy access to the undercarriage of the vehicle. If you want to stop crawling and scooting under the vehicle, the lift allows you to safely hoist the car up and work underneath it with room to spare.


Car stacker — another way to maximize your garage space, by stacking your vehicles. With the convenience of stackers, you can store your collection of vehicles inside, to save on wear and tear on the bodies. The car lift allows you to get more out of the garage space available.


Garage furnace — allows you to work comfortably inside the garage in the cold weather. With our Hot Dawg brand garage furnaces, you can heat your garage in the winter months and work without a coat. These handy furnaces come complete. We do the installation and no ventilation is necessary.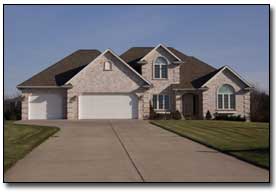 Financing Help
Miller Garages works hard to help you obtain the financing you need for your garage project. We can connect you with one of the financing companies we work closely with, including First Horizon, Old Republic, and Washington Mortgage companies. We promptly provide the detailed project description necessary to get the financing process started.
The Garage Planning Process
When you contact Miller Garages, a specialist makes an appointment with you, to see the site where the garage will be built. During the site visit, our representative measures the area available, talks with you about what you need, shows you pictures, discusses styles, sorts through options, offers samples of siding, trim, and doors, and helps you draw up garage plans that meet your needs. You can walk through garage models at the Miller Garages shop, to see the selections in person and get a better feel for what might work for you. Once you have made your selections, we provide you with a written estimate of the cost and submit a contract to you for your signature.
Satisfied Customers
Miller Garages has been around for a long time because our customers are satisfied with the work we do. You can trust us to build your garage so it will last. Our standard specifications include:
reinforced concrete
insulated and fire-rated structural wall sheathing
25-year fire-rated shingles
maintenance-free vinyl siding in your choice of colors
A Good Neighbor You Can Trust
Miller Garages is a good neighbor with a reputation for integrity and dependability. Our main goal is to make you a satisfied customer. We can provide you with references and testimonials from the many satisfied customers who have done business with us over the years. We are affiliated with the Better Business Bureau and the Building Industry Association of Southeastern Michigan.
Contact Us at Miller Garages
Call us at 248-955-4092 for an initial consultation, so we can find out how we can best serve you. Or email us by clicking on this link: New Garage Estimate.
We're ready to assist you!